Shopping Cart
Your Cart is Empty
There was an error with PayPal
Click here to try again
Thank you for your business!
You should be receiving an order confirmation from Paypal shortly.
Exit Shopping Cart
| | |
| --- | --- |
| Posted on November 27, 2015 at 11:57 PM | |
I am a concerned mother.  I am a concerned massage therapist.  And as a therapist for children, I am very concerned over the posture habits already being exhibited by young kids and teenagers.  The habitual use and the associated poor postures associated with sitting hunched over modern day devices is literally sending more and more young people into doctors offices, chiropractic and physical therapy clinics, and massage therapist's offices such as mine complaining of neck pain, headaches, etc. 
What can we do as parents?  These are just a few tips to at least minimize the long-term damage on necks and spines.  Parents take note...these apply to you as well!
#1.  Limit time spent on the device.
Sounds simple, but is it?  Yes. No of course not.  Kids want to play and surf the web but children do not need to be on these devices for lengths of time.  Children need to know how to appropriately socialize among peers and their elders.  Children need to interact with their parents without the a phone or tablet distracting them.  Have children earn time on the device and keep the usage to maybe 10-30 minutes at a time.
#2.  Play close attention to how the child holds their head and sits with the device.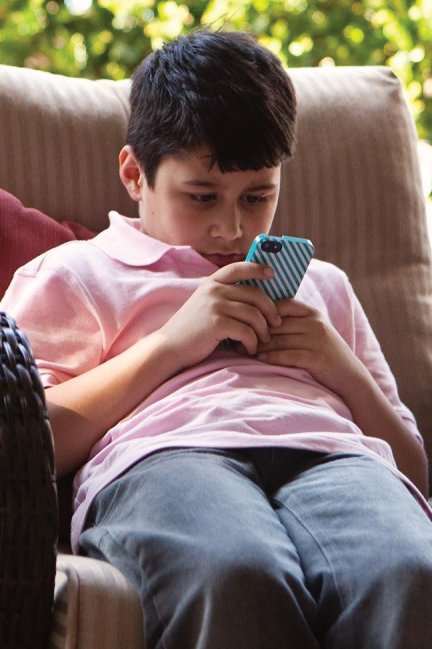 Dr. James Carter, a leading Australian chiropractor has warned that 'text neck' which is a condition often brought on by bending over phone and tablets for several hours at a time is becoming a global epidemic. He warns that the condition can lead to anxiety and depression as well as spinal damage.  The head is tilted forward, front neck muscles become chronically tight, as well as the jaw, while the muscles in the back of neck become over stretched, weakened.  This mixture inevitably leads to things like neck pain, migraines, jaw pain/soreness, chronic mouth breathing, stiffness throughout the upper body, and could possibly be creating permanent damage to the spine, during a crucial time when kids and teens are learning bad habits while continuing to go through growth spurts.
In addition to limiting time spent on the device, remind them (constantly if you have to) to sit up straight.  It's an old saying, right?  Remember when our parents used to constantly correct us?  It's okay to do that.  In fact, it's a must.  Use a pillow or other prop to bring the device higher so that the head isn't forced to look so far down.  Use any props you can think of!  Ideally, one's head should be able to look straight ahead with shoulders in a relaxed position and elbows bent at 90 degrees.  This can be challenging when playing games or surfing the web for hours.  Again, limiting time is key!
4.  Learn, teach and exhibit good postural habits now. 
Adults and kids alike can benefit from working with a good personal trainer, physical therapist, structural or orthopedic massage specialist, etc, to learn proper posture techniques.  There is so much great info out on the web regarding the subject.  One of my favorite analogies comes from Dr. Erik Dalton in his article, The 42 Lb. Head.  Here is a quick excerpt: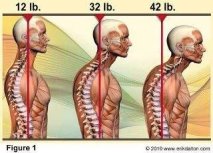 "According to research, every inch the head moves forward of the shoulders, weight is amplified by 10 pounds. As a result, a 12 pound head held 3 inches forward causes the cervical extensors (semispinalis, splenii, longissimus, upper traps, etc.) to isometrically battle 42 pounds against the relentless force of gravity.  Forward Head Postures such as the Upper Crossed Syndrome (Fig. 1) evolve from poor sleeping positions, driving stress, computer neck, whiplash, and faulty breathing habits. Resulting pain syndromes can often be traced to muscle strain, disc herniations, arthritis, pinched nerves and 'dural-drag' from an overstretched or impinged spinal cord.
If your child complains of neck pain, this could be one possibility.  Watch him or her and observe and make adjustments.  If they complain of pain, pediatric massage therapy is one way to help. Do not allow your children to achieve a kyphotic spine in their youth.  It will age them beyond their years and pain will ensue. They will surely thank you for it some day!
Categories: Pediatric
/