Shopping Cart
Your Cart is Empty
There was an error with PayPal
Click here to try again
Thank you for your business!
You should be receiving an order confirmation from Paypal shortly.
Exit Shopping Cart
| | |
| --- | --- |
| Posted on August 20, 2013 at 12:13 PM | |
There are several muscles that play a part of your low back pain, however, one group in particular makes the cut as one of the biggest culprits. 
Before we get there, allow me to say that a common assumption of low back pain is that it must be caused by a structural issue in the lumbar spine, such as arthritis, a herniated disk, compressed nerve, sacroiliac joint dysfunction, etc.  While these are common conditions that need ruling out (usually with diagnostic evidence), it is just as important to rule out a common soft tissue malady.  You could possibly save time, money, and hassle trying to find structural issues when the problem could be a result of muscular trigger points referring the pain.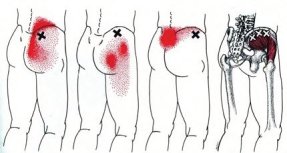 Trigger points in the GLUTEUS MEDIUS muscles, are commonly felt in the low back just above and below the belt line and often extends into the buttocks and hips.  Gluteus medius trigger points can make walking painful and can make it hard to find comfortable sleeping position, especially on the side of the hips.  Afflicted gluteus medius muscles pull the rim of the pelvis down, stiffening and flattening the lower back, adding to the problem.
The gluteus medius muscle is a very strong and thick muscle, lying underneath the larger gluteus maximus.  Its primary function is to allow you to walk upright.  With each step you take, the gluteus medius muscles take turns supporting the pelvis and supporting the entire weight of the upper body.
Due to their leverage at the hip, the gluteus medius muscles must generate a force equal to more than twice the body weight.  That's right, more than double the body weight!  Any additional demands placed on the gluteus medius will only compound the load that they must carry with each and every step.
Carrying extra weight, whether it be in an overweight individual or a pregnant woman, for example, often times results in the 'waddle' walk.  This is the body's way of trying to maintain good body mechanics under the circumstances of overloading.
Here are other potential causes of gluteus medius trigger points:
-weight lifting
-running
-falls
-aerobic exercise
-habitual weight bearing on one side of body (such as carrying a baby on one hip)
-standing or sitting still for long periods of time
-lifting heavy items without properly supporting with both legs
-obesity
-*weak gluteal muscles

- and more.

So the next time you suffer from lower back pain or hip pain, consider these important muscles.  Are you an active individual?  Does your job entail sitting or standing for long periods?  Are you carrying extra weight?
These are things to consider when dealing with lower back pain.  If you have not tried an experienced massage session, focusing on the gluteals, now is the time.  Pain relief can come sooner than you think.

To schedule online, visit

*See gluteal strengthening videos now:
http://www.youtube.com/watch?v=zA-0qiNgcpk)
Categories: Muscle Talk
/