Shopping Cart
Your Cart is Empty
There was an error with PayPal
Click here to try again
Thank you for your business!
You should be receiving an order confirmation from Paypal shortly.
Exit Shopping Cart
| | |
| --- | --- |
| Posted on September 24, 2012 at 5:46 PM | |
The other day my mom joined us in a trip to the lake side.  We commonly enjoy walking the shore, playing in the sand, and collecting rocks/shells.  For the first several minutes she refused to take her shoes off, even in the soft sand underneath the water.  When I asked if she would eventually take off her shoes, she emphatically replied, "Oh no, walking barefoot hurts my feet too much."  And I thought, "Even more reason to walk barefoot!"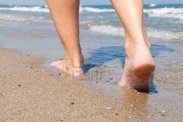 Walking through sand or on the ground not only provides therapeutic reflexology and strengthens foot and leg muscles, but also provides another form of therapy called 'GROUNDING' or 'EARTHING' (putting bare feet on the ground).  On a daily basis our bodies are inundated with hoards of free radicals (i.e. toxins).  In my mom's case, she works at place where she must walk around electronic gadgets such as computers and cellular phones, and other high EMF equipment for long hours.  She needs to shift this overload of radiation elsewhere.  The earliest and most primitive way to do this is to put bare feet on the ground.




During grounding, you're literally soaking up millions and millions of electrons which intercept the free radicals in the body.  The shift that takes place in the autonomic system while walking on the ground, a beach, a park, etc., allows our bodies to come into a more homeostatic balance, a healthier state.  Grounding is the easiest, cheapest way to help the body achieve an optimal state of homeostasis!




If you cannot find a place to walk barefoot, you can sit outside and allow bare feet to touch the ground.  You will feel better in just minutes as the Earth donates its electron charges.





Grounding yourself daily is so important!!!










For more information regarding this form of therapy:




Read Clint Ober's book, Earthing.




http://www.youtube.com/watch?v=OclGGH0EKhc&feature=related




















Categories: None

0

/