Shopping Cart
Your Cart is Empty
There was an error with PayPal
Click here to try again
Thank you for your business!
You should be receiving an order confirmation from Paypal shortly.
Exit Shopping Cart
| | |
| --- | --- |
| Posted on March 13, 2011 at 12:22 AM | |
 While training for a half-marathon, I recently began to feel the very familiar

aching, burning, and then stinging in my shins...the 'shin splints' which have ailed me for years since my days as a ballet dancer.  Through proper rest, training practices, massage, ice, etc., I have been relatively pain free during my runs.  However, after a swift (and uneducated) decision to try out different running shoes with more heel and arch support, the pain in my shins returned in just a couple miles of use.  I quickly realized that these shoes weren't allowing me to run in proper form (on mid-to balls of my feet).  In fact, I was almost forced to run on my heels because of the bulk in the shoes.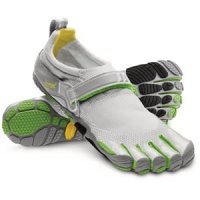 This led me to the Vibram Five Fingers.  You have probably seen them or maybe wear them already.  I went to a running store where I could be fitted properly and have now worn my Five Finger 'Sprints' for 4 days.  The 1st day, I wore them for a couple of hours around the house. By day 2, I felt confident enough to wear them to work (about 7 hours).  During those 7 hours, I never once felt the pain in my shins!  The slight separation in the toes and the grounding I felt while wearing them felt rather ....well, wonderful!
  I look forward to testing them during my runs but also feel a little aprehensive until I know the inflammation in my shins has improved.  However, this has proven to be a positive start.  Surprisingly, the thought of putting on running shoes with a lot of padding is a bit unappealing. 

 These shoes may not be meant for everyone or every type/shape of foot.  Whether they are healthy options for those who already suffer from plantar fasciitis/heel pain, I cannot say at this time, nor have I read any research on the subject.  I would suggest using caution of you have a history of foot pain.  However, the delicate muscles in the feet need strengthening, just like any other muscle, and these shoes allow for that.

Here are6 Reasons Why You May Want To Consider Wearing Vibram Five Finger Shoes:
Vibram Five Fingers is different than any other footwear.  Not only do they bring you closer to your environment, Five Fingers deliver a number of positive health benefits-by leveraging all of the body's natural biomechanics, so you can move as nature intended.
Strengthens muscles in the feet and lower legs – wearing Five Fingers will stimulate and strengthen muscles in the feet and lower legs, improving general foot health and reducing the risk of injury.
Improves range of motion in ankles, feet and toes – no longer 'cast' in a shoe, the foot and toes move more naturally.
Stimulates neural function, important to balance and agility – when wearing Vibram Five Fingers, thousands of neurological receptors in the feet send valuable information to the brain, improving balance and agility.
Improves proprioception and body awareness – those same neurological receptors heighten body awareness, sending messages about body mechanics, form, and movement.
Eliminates heel lift to align the spine and improve posture – by lowering the heel, our body weight becomes evenly distributed across the foot bed, promoting proper posture and spine alignment.
Allows the foot and body to move naturally, which just FEELS GOOD.



If you have any of your own feedback regarding these or similar type of shoes, I would love to hear from you.  Until then, keep those feet (and legs) happy!


Categories: None

0

/